List of hotels in Tashkent
Wyndham Tashkent Hotel, Tashkent
Amir Temir Str., C 4, N 7/8 Tashkent 100084 Uzbekistan

The hotel is located not far from the major administrative and business centers of the city. You will be offered a wide range of services and perfect conditions for a good rest...
Ramada Tashkent Hotel, Tashkent
1, Abdulla Kodiriy street Tashkent, 100128 Uzbekistan

Hotel Ramada Tashkent is situated in a convenient area of Tashkent, near a small park. In spite of the fact that it started its work not so long ago this hotel is in the list of the first-class hotels of Tashkent...
Le Grande Plaza Hotel, Tashkent
2, Uzbekiston Ovozi Street 100047, Tashkent, Uzbekistan

Located in the center of the city world class hotel offers its guests comfortable rooms of different types and other facilities such as pool, gym and others...
City Palace Hotel, Tashkent
15, Amir Timur Street, Tashkent 100000, Uzbekistan

The City Palace hotel invites everyone to a world-class business hotel located in the center of Tashkent at the intersection of major highways. it is situated in close proximity to business and administrative institutions
Asia Tashkent Hotel, Tashkent
111, Usman Nosyr str., Tashkent 100047 Uzbekistan

The Asia is the chain of hotels with affiliates located in all big cities of Uzbekistan. A worthy representative of this trademark the Tashkent Asia
Lotte City Hotel Tashkent Palace Hotel, Tashkent
56, Buyuk Turon Street Tashkent 100029, Uzbekistan

The Lotte City Hotel Tashkent Palace is one of the oldest hotels in Tashkent. Not so long ago it was restored and renovated...
Grand Mir Hotel, Tashkent
Grand Mir Hotel 2, Kunaeva Street, Tashkent 100031, Uzbekistan

A magnificent hotel the Grand Mir is situated in the central part of Tashkent and surrounded by glamour boutiques, restaurants, cafes...
Golden Valley Hotel, Tashkent
Chinabad str.61 A, Tashkent 100047, Uzbekistan

The Hotel Golden Valley is a new comfortable four-star hotel, located in the "green zone" of the capital of Uzbekistan.
Radisson Blu Hotel, Tashkent
88, Amir Timur Street, Tashkent 100084, Uzbekistan

The Radisson Blu Tashkent is opened not so long ago but has already gained the reputation of prestigious respectable hotel with its own traditions.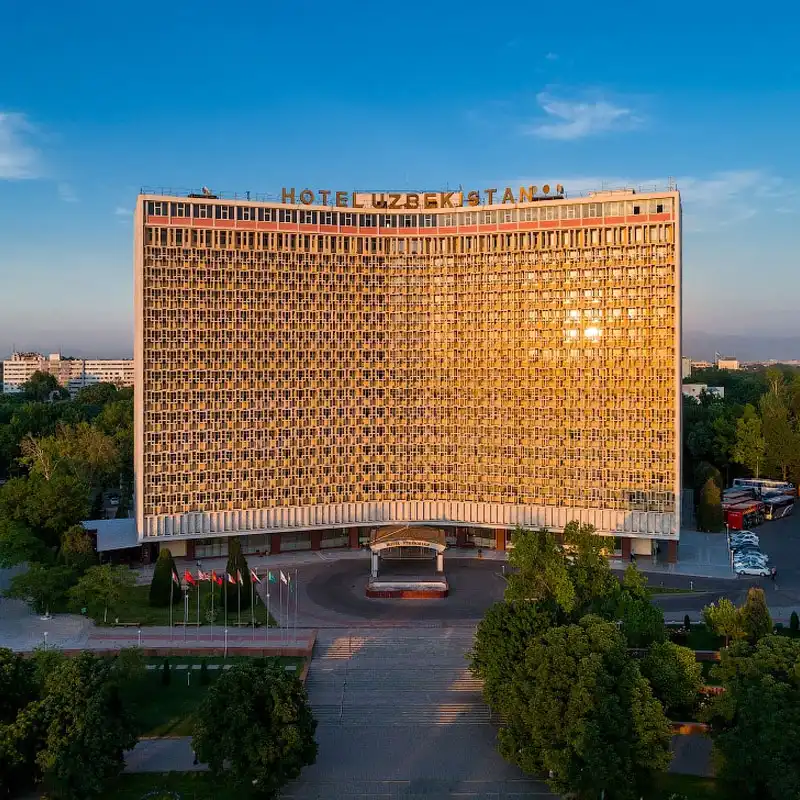 Uzbekistan Hotel, Tashkent
45, Musahanov Street Tashkent 100047, Uzbekistan

This hotel embodies the famous Uzbek hospitality and is considered to be the symbol of Tashkent.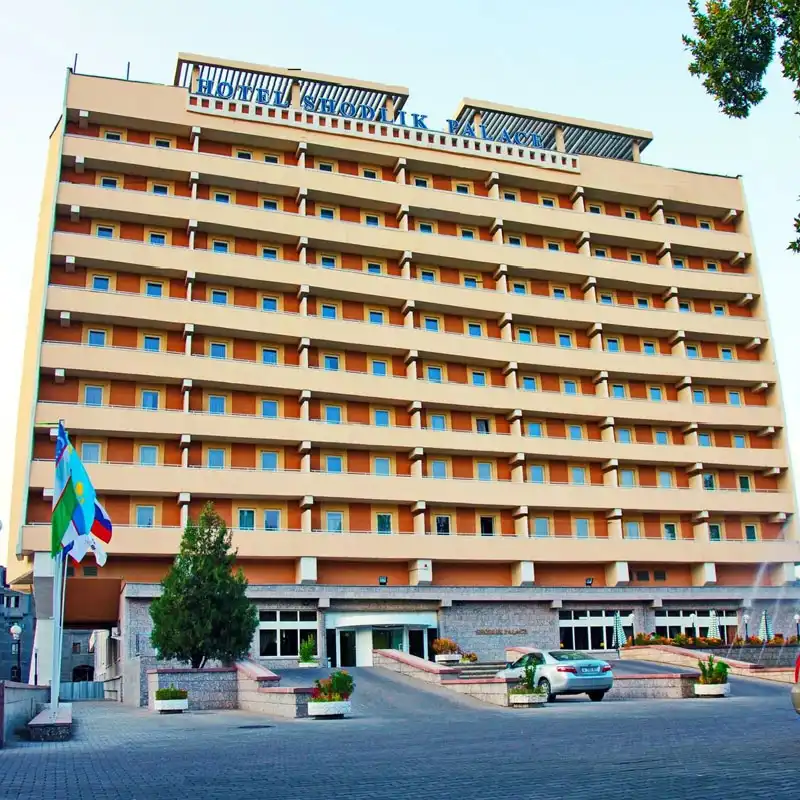 Shodlik Palace Hotel, Tashkent
5, Pakhtakor Street Tashkent Uzbekistan

Welcome the Shodlik Palace, the hotel of the international class! Our hospitable and friendly...
Bek Hotel, Tashkent
64 A, Yusuf Hos Hojib str., Tashkent 100047 Uzbekistan

The Bek hotel is one of the newest hotels of Tashkent. All rooms are furnished with fashionable furniture and other necessary facilities such as...
Grand Nur Hotel, Tashkent
83, Malaya Koltsevaya Str (Sofiyskiy Avenue), 100069, Tashkent, Uzbekistan

The Grand Nur is located in a picturesque part of Tashkent, near the historic and business center of the city, on the former Sophiyskiy prospect...